2019 Hungarian Grand Prix —
Strategy Preview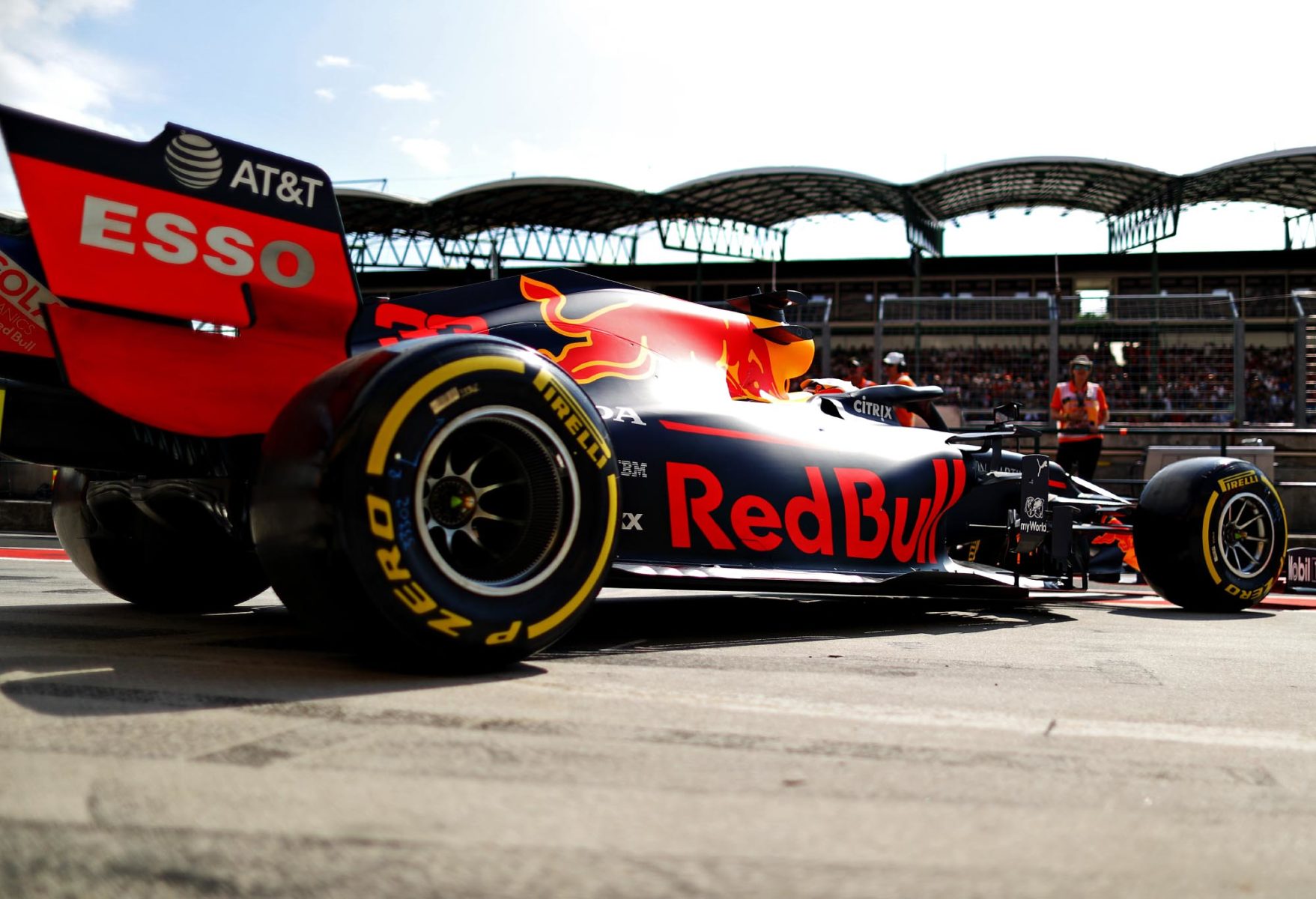 Max Verstappen took his maiden pole position in a thrilling qualifying hour at the Hungarian Grand Prix, but the Dutchman will have to fend off a two-pronged attack from Mercedes if he's to convert it into an eighth career victory.
Red Bull Racing has typically done well at the Hungaroring given its high-downforce philosophy suits the tight and twisty circuit, but it was a close-run thing, with Valtteri Bottas just 0.018 seconds off the pace.
Mercedes hasn't always been so strong here, but a tilt in design paradigm towards slow-speed corners when in the past it relied on engine power for its advantage has seen it make great gains in Budapest.
Inversely, Ferrari has become the team of engine power over downforce, a balance the Italians have been trying to correct all season. The SF90 is mighty in the first sector, which comprises mostly straights, but gives away bucketloads of times to its two rival frontrunners in the final two track segments, leaving it as the third-best team over a single lap in Hungary.
But while the two-team battle for victory should be exciting, Ferrari can't be entirely discounted, with conditions in the race unlike those seen during Friday practice, meaning whoever masters conditions best on the fly could win big.
The grid
2019 HUNGARIAN GRAND PRIX GRID
1
Max Verstappen
1:14.572
2
Valtteri Bottas
1:14.590
3
Lewis Hamilton
1:14.769
4
Charles Leclerc
1:15.043
5
Sebastian Vettel
1:15.071
6
Pierre Gasly
1:15.450
7
Lando Norris
1:15.800
8
Carlos Sainz
1:15.852
9
Romain Grosjean
1:16.013
10
Kimi Raikkonen
1:16.041
11
Nico Hulkenberg
1:16.565
12
Alex Albon
1:16.687
13
Daniil Kvyat
1:16.692
14
Antonio Giovinazzi
1:16.804
15
Kevin Magnussen
1:17.081
16
George Russell
1:17.031
17
Sergio Perez
1:17.109
18
Daniel Ricciardo
1:17.257
19
Lance Stroll
1:17.542
20
Robert Kubica
1:18.324
Hungaroring
Circuit statistics
Laps: 70
Distance: 4.381 kilometres
Corners: 14
Lap record: 1:19.071 (Michael Schumacher, Ferrari, 2004)
Circuit characteristics
Tyre stress: Medium
Lateral load: High
Asphalt grip: High
Asphalt abrasion: Medium
Downforce: High
Strategy particulars
Safety car probability: 60 per cent
Pit lane speed: 80 kilometres per hour
Pit lane length: 362 metres
Pit lane time loss: 19.5 seconds
Fuel loss: 0.4 seconds per 10 kilograms
Estimated tyre delta: C2–0.5 seconds–C3–0.7 seconds–C4
Strategy forecast
The overriding matter in deciding strategy for the 2019 Hungarian Grand Prix is the lack of meaningful practice data ahead of the race. The first practice session was punctuated by bouts of rain and was otherwise utilised, as is standard, to get the basics of the car right, and the second practice session was almost completely washed out by showers.
While it was bad news for those who'd paid admittance on Friday, it's great news for those hoping for a Sunday spectacle — races tend to be more exciting when teams are denied the opportunity to fine-tune their cars and consider their strategies, forcing a more seat-of-your-pants approach to the race.
Teams will of course have accumulated plenty of data on this specific set of Pirelli tyres given C2, C3 and C4 is the most commonly selected trio in the range, but two important considerations will be at play when using experience to formulate a strategy.
The first and most significant will be the weather. Friday practice was wet and cool and Saturday was cloudy and mild. If ambient and track temperatures rise substantially on Sunday, thermal degradation will rise and push drivers into greater conservation or a second stop.
However, the second consideration is the difficulty of overtaking at this serpentine circuit. Track position is king here, and the risk of making two stops and needing to pass cars will weigh heavily in favour of stopping only once.
Because of both factors, Mercedes, Ferrari and Red Bull Racing had all their drivers use the medium-compound tyre in Q2, therefore setting it as their starting compound and giving themselves the ability to comfortably stop once and avoid the soft entirely if it proves a poor race tyre on those forced to use it.
On the surface this would present as the ingredients of a straightforward race after the first lap, with the top six on the same strategy and unlikely to pass, but the timing and even choice of tyre for that first stop allows room for variation.
The battle for victory between Max Verstappen and following Mercedes drivers Valtteri Bottas and Lewis Hamilton will be the perfect test bed, with one of the German marque's drivers certain to use an alternative strategy in an attempt to wrest control of the race from the Dutchman.
The standard one-stop strategy will be to stop off the medium approaching half distance and take a new set of hards. Assuming Bottas holds second off the line, if he were to keep himself within undercut range, he would have the pit-stop trigger and attempt to force Red Bull Racing to respond.
Hamilton, inheriting the lead, would then be empowered to extend — say, to lap 40 — and switch to new softs if other drivers had fared well on the red-marked compound, setting up a chase for the lead in the final laps. This assumes the intra-team politics of giving the two drivers different strategies is workable inside Mercedes.
In such a situation Verstappen may become vulnerable for his lack of rear gunner, with Pierre Gasly qualifying sixth and having looked off the frontrunning pace all weekend.
Here Ferrari could come into play. If the race pace is slow to guard against degradation, a late conversion to a two-stop strategy — medium-hard-soft — once there was enough of a gap to the midfield could allow one or both Scuderia drivers to make a late charge for the podium. Sebastian Vettel employed the same strategy at the Austrian Grand Prix, where he finished less than a second behind Valtteri Bottas.
As for the battle in the midfield, if those starting on the softs in the top 10 are able to draw decent longevity for the rubber, Pirelli estimates a soft-medium strategy to be quicker than a medium-hard strategy on the cards for those with a more conservative outlook.
Also keep an eye on drivers towards the back, Daniel Ricciardo in particular, who may be tempted to start on the hard tyre and run long before making a first stop, allowing them to jump those they ought to be naturally faster than.
PREDICTED STRATEGIES
Soft to lap 24–30, medium to flag;
medium to lap 30–35, hard to flag;
soft to lap 22–28, hard to flag; or
soft to lap 16–20, medium to lap 41–47, medium to flag.