Title still alive after Vettel's magnificent Malaysia recovery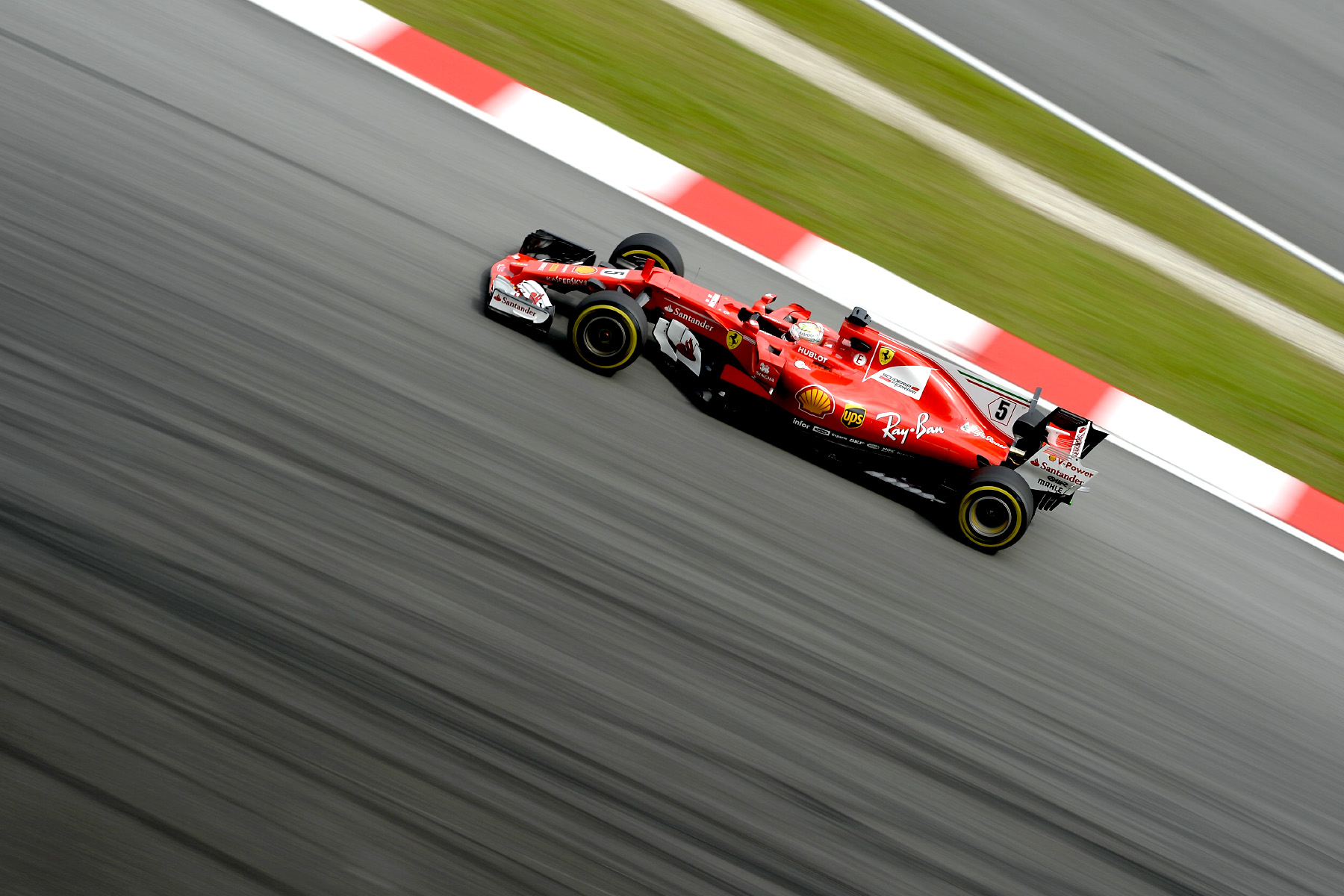 The 100,000 fans who packed into Sepang's grandstands for the final Malaysian Grand Prix knew they were witnessing the twilight days of the 2017 championship race, but the drama with which the season's latest chapter was written could never have been expected.
The weekend could not have started any better for Ferrari and Sebastian Vettel. With a 28-point deficit to Lewis Hamilton to close in just six race, Ferrari's extremely strong pace during practice was cause for optimism that the German could begin clawing his way back into title contention.
Better yet, Mercedes was having another of its off weekends, its car confounded by the combination of hot weather, technical turns and tricky tyres. The German marque was presenting an open goal; Malaysia looked set to be a walk in the park for Ferrari.
It wasn't.
It took just minutes for Vettel's weekend to unravel during qualifying. The German's car developed a power unit problem, and though he limped back to the pits, there wasn't enough time remaining to repair the engine.
His stricken car was relegated to the back of the grid, and as if to rub salt into the wounds, Lewis Hamilton pulled an ace lap out of the bag to qualify on pole.
"It's very bitter, but this is motor racing," Vettel said after qualifying, acknowledging the gravity of the situation.
His weekend worsened still when his teammate, Kimi Räikkönen, who had qualified a commendable second place and was primed to take points off Hamilton, was withdrawn from the race with — you guessed it — power unit problems.
The odds were stacked steeply again Vettel, but with is title at stake, the four-time world champion put in a championship-worthy drive to save himself.
One by one Vettel picked his way through the slower midfield. On the first lap he jumped six cars, and by lap 21 of 56 he was sitting pretty in fifth place ahead of every team bar Mercedes and Red Bull Racing.
He bore down on Mercedes's Valtteri Bottas and jumped him in the pit stops. Now equipped with Pirelli's softest tyre, the German hunted down Red Bull Racing's Daniel Ricciardo for a place on the podium.
The Australian was reeled in by a second pre lap until the two were forced to spar for position. For five laps the former teammates duelled, their cars dancing in the setting Malaysian sun for the final time, but Vettel's aggression proved too much for his tyres, which by lap 49 were past their best. Fourth place was all she wrote.
It shouldn't have been enough, but while Vettel was scything through the midfield Max Verstappen was slicing past Lewis Hamilton and into the lead with such pace the Briton was unable to follow.
The Dutchman won his second grand prix for Red Bull Racing one day after his 20th birthday and in doing so he had restricted Hamilton to adding just six points to his lead over Vettel, two short of the crucial number that would have put the title result beyond Vettel's control.
But the final Malaysian Grand Prix concealed one last twist. Vettel and Williams driver Lance Stroll had a bizarre crash on the cool-down lap that violently tore off the Ferrari's left-rear wheel. Though neither driver was penalised, of greater concern is the potential for damage to Vettel's gearbox.
With a gearbox replacement coming at a cost of five grid places for the next race, Vettel's valiant recovery might yet give way to more pain at the Japanese Grand Prix, where his road to championship recovery looks set to remain as steep as ever.