Rosberg on Baku pole after Hamilton crashes out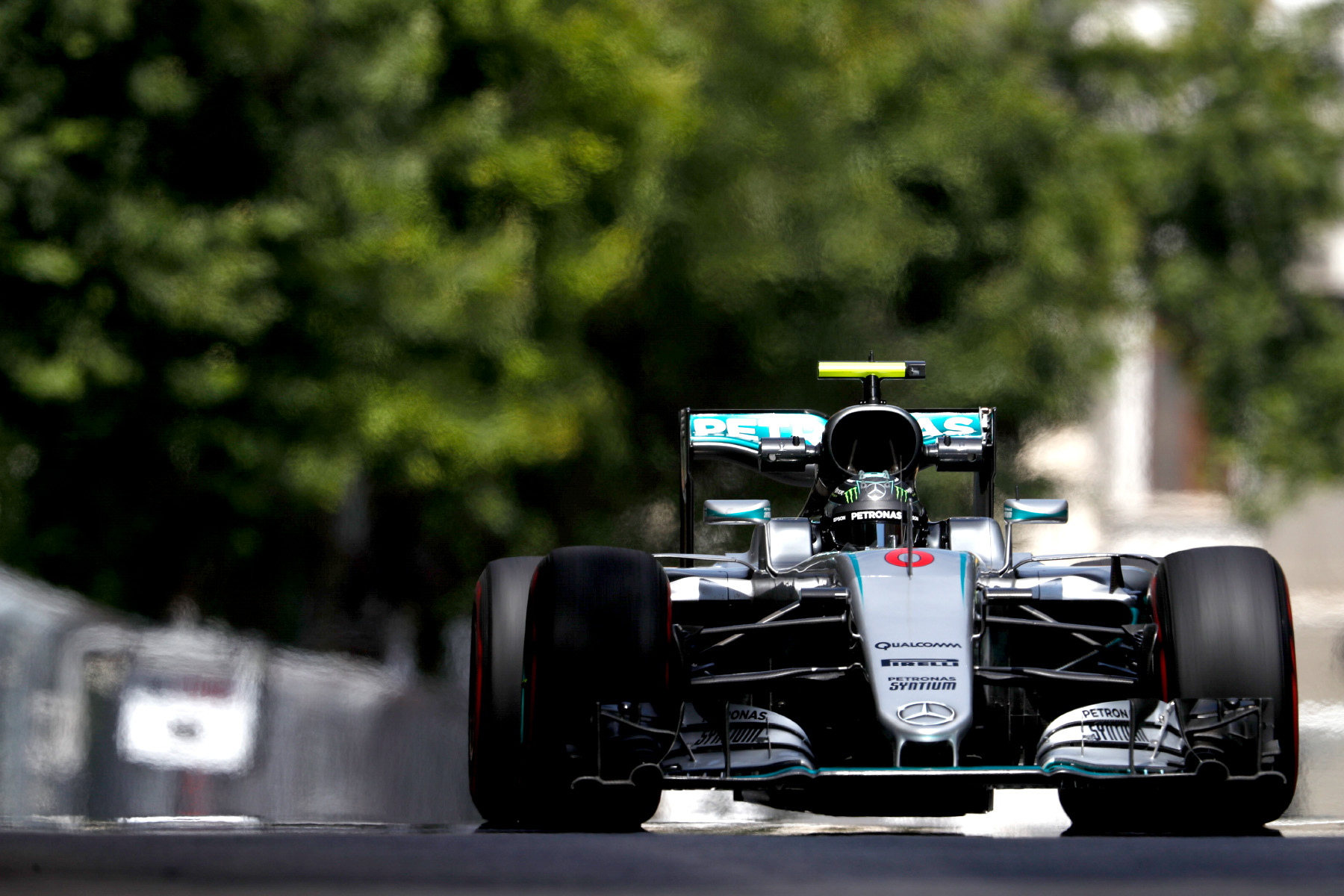 Nico Rosberg has seized a last-gasp pole position for the inaugural European Grand Prix in Azerbaijan after chief qualifying rival Lewis Hamilton crashed his car.
Both Mercedes cars had spent almost 10 of the session's 12 minutes conditioning their tyres, but on his first attempt at a hot lap Lewis Hamilton turned into the apex barrier at turn 10 and totalled his Mercedes.
While the marshals assessed the damage Rosberg crossed the line to take provisional pole away from Force India's Sergio Perez, and the track was subsequently red flagged.
"It was great," said Rosberg. "It was one of the more challenging sessions out there, but everything worked out well.
"There was a bit of reorganising [around yellow flags] — I had one attempt at the end, but that worked out fine. I'm very happy. It was great.
"All weekend we were building towards [Q3], and in qualifying it was really optimum, it felt good."
The session was resumed minutes later, but Rosberg, with more than 0.7 in hand over Perez, opted not to return the circuit, safe in the knowledge that his rivals would likely not be able to warm up their tyres sufficiently in the 120 seconds remaining to set a competitive lap.
His predictions proved accurate with only one exception — a stunning final lap from Daniel Ricciardo had him jump from seventh to third behind Perez and ahead of Sebastian Vettel.
"It was hectic. It was intense," said Ricciardo from P3. "Thanks to the guys and the team for getting me out at the front, giving me that clear track and making sure I got a lap in.
"My first run in Q3 was pretty average, to say the least — I made a lot of mistakes. I knew not everyone would get a [second] lap, so I was just trying to think, 'Do a good enough lap to jump up from seventh'.
"Very close, and really happy to bounce back with the top three."
Ricciardo's third-quickest time will become second on the grid when Perez's five-place grid penalty for a gearbox change is taken into account.
Perez rued his free practice three mistake that resulted in a crash and necessitated the gearbox switch, but he was overjoyed to log the second-fastest time of the afternoon nonetheless.
"It does [feel like pole], to be honest," said the Mexican. "We were expecting ourselves to be strong around here, but not P2."
"The whole team has put the car together to first of all be able to make qualifying. Obviously I'm still a bit angry for the mistake of this morning, but I'm very happy.
"Hopefully tomorrow we can do a lot of progress and be in a very strong position. I think the team deserved more, and hopefully tomorrow we can put together a strong race."
The Ferrari duo of Sebastian Vettel and Kimi Räikkönen improved enormously from their lacklustre Friday practice showing — Vettel set a time identical to that of Ricciardo — to qualify ahead of Felipe Massa's Williams, which was fancied around the Azerbaijan circuit, which favours power over downforce.
Daniil Kvyat began what could be his bounce back from being dumped by Red Bull Racing with an excellent qualifying afternoon that saw him beat teammate Carlos Sainz to Q3 and subsequently set the seventh fastest time.
Vettel, Räikkönen, Massa, and Kvyat will move up one place each after Perez is demoted to seventh for his gearbox change.
Valtteri Bottas and Max Verstappen qualified eighth and ninth after tussling at the first corner on their final flying laps.
Verstappen appeared to open the door to Bottas, who was speeding in the Dutchman's slipstream, at the first turn, but after the Finn took the apex Verstappen moved to re-take the line, almost resulting in a collision.
Hamilton, unable to set a representative time after his crash, qualified tenth.
QUALIFYING TWO
A frantic qualifying two hinged a number of drivers needing to string together a lap unaffected by yellow flags in the dying moments of the session, chief amongst them Hamilton.
The Mercedes driver critically locked up on his penultimate flying lap while holding P10 on the timesheet, and a number of fast cars behind him were threatening to leapfrog the Briton.
His final lap was almost undone when Haas's Esteban Gutierrez stopped in the run-off area at the bottom of the castle, but the resulting yellow flag was withdrawn as Hamilton approached the sector, meaning he lost little time and was able qualify for the top-10 shootout.
Gutierrez's teammate Romain Grosjean was the fastest of those eliminated, missing out on a top-10 berth by 0.2 seconds.
Behind the Frenchman Force India's Nico Hülkenberg qualified in P12 after an apparent miscommunication between him and the pit wall about his qualifying strategy.
Carlos Sainz put his Toro Rosso in thirteenth, ahead of Fernando Alonso's McLaren and Gutierrez's Haas.
QUALIFYING ONE
As tends to be standard at new street circuits, the track improved rapidly throughout the session as rubber continued to impregnate the freshly laid and super smooth asphalt.
The result was that fans in attendance at the first ever qualifying session in Baku were treated to 18 minutes of a full track, with the midfield and backmarker cars hoping to set the final lap when conditions would be at their fastest.
It was tricky, however, given the still slippery street circuit catapulted many a car into the run-off areas, which forced qualifying drivers to slow for yellow flags.
Felipe Nasr managed to put his Sauber out of Q1, but teammate Marcus Ericsson was left behind.
The conditions also separated McLaren's Fernando Alonso and Jenson Button, with the latter forced to abandon his final flying lap and settle for the bottom six.
Rio Haryanto was the fastest of the eliminated cars and qualified in P17 ahead of teammate Pascal Wehrlein, and Button was faster than Ericsson on the penultimate row.
Renault duo Kevin Magnussen and Jolyon Palmer brought up the rear despite an identical power unit propelling Daniel Ricciardo's Red Bull Racing car to fourth in the session.