Rosberg opens season with strategic victory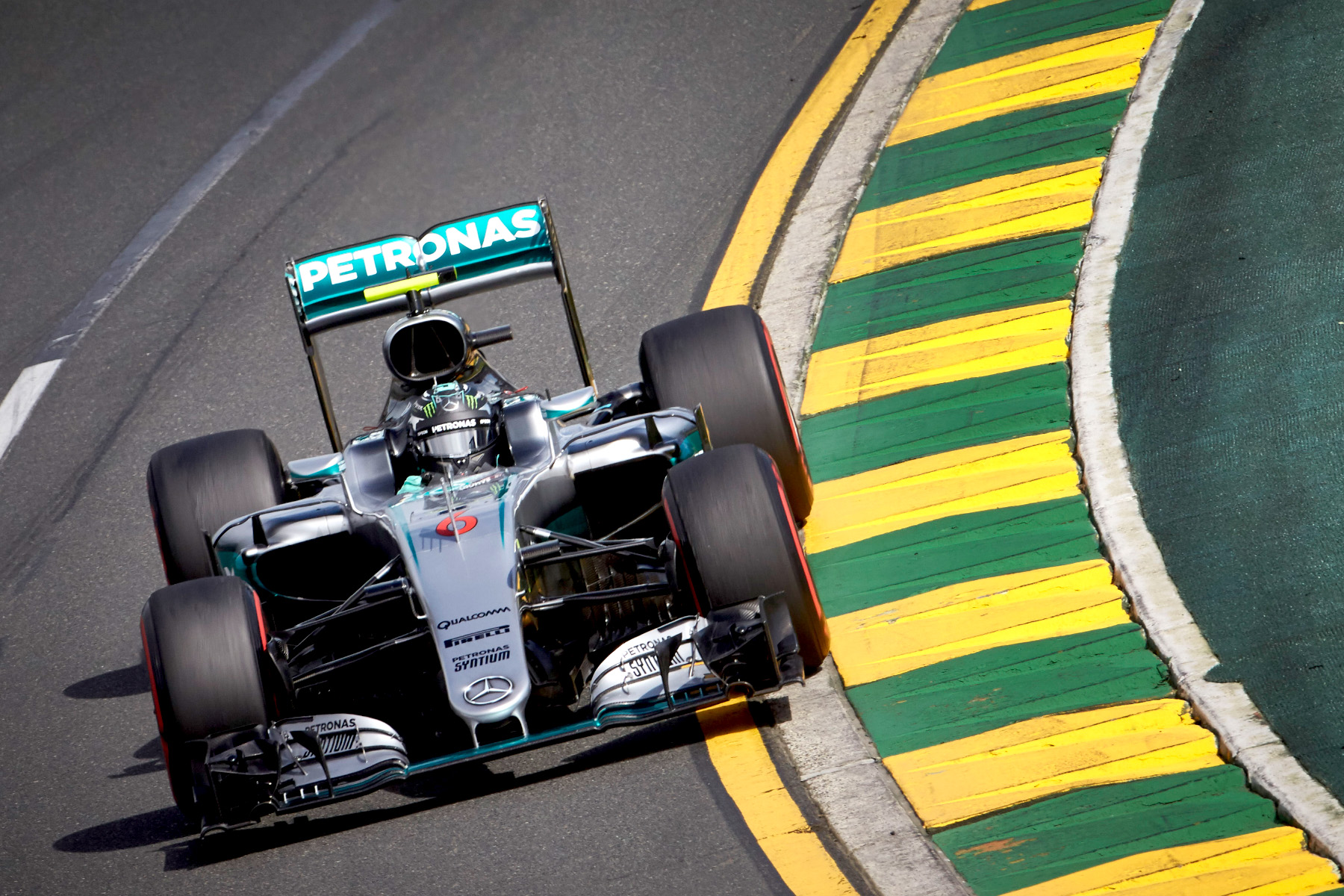 Nico Rosberg has won an intriguing Australian Grand Prix ahead of pole sitter Lewis Hamilton after Ferrari made a strategic blunder with Sebastian Vettel in the lead.
READ: Michael Lamonato in The Phuket News
After the start was aborted for Daniil Kvyat's stopped Red Bull Racing car at the back of the grid Lewis Hamilton and Nico Rosberg suffered slow getaways from the front row.
Formula One's clutch regulations have mandated the drivers use only one clutch paddle rather than the usual two, making clean starts significantly harder, and Ferrari's Vettel and Kimi Räikkönen, starting from third and fourth, leapt ahead by the first corner to seize the lead.
Vettel led from his teammate, who squeezed Rosberg out at the first turn, but Hamilton lost out most, dropping to sixth place behind Williams's Felipe Massa by the end of the lap.
The gap between Vettel and Räikkönen stabilised at between two seconds while Räikkönen held Rosberg at bay with a one-second buffer through the first stint, the trio daring each other to blink first with all three on worn supersoft tyres.
Meanwhile Hamilton took three laps to make it past Massa for fifth place, but had far more trouble with Max Verstappen's Toro Rosso stubbornly occupying P4.
By lap 10 Hamilton was appealing to his team to investigate alternative strategic options but three laps later Verstappen dived into the pits to switch from his red-marked supersofts to the yellow-marked softs.
Rosberg, too, took the opportunity to change his tyres in the same style. Race leader Sebastian Vettel followed one lap later, but substituted his used supersofts for new ones.
Vettel sliced across the front of Rosberg as he exited the pits, and both made inroads on Hamilton and new race leader Räikkönen. By lap 16 the old guard was ready to switch with the new, but both Räikkönen and Hamilton took their leave to change tyres — Räikkönen onto new supersofts and Hamilton onto mediums, the latter in an attempt to execute a one-stop race.
But all strategic permutations were thrown out the window when McLaren's Fernando Alonso and Haas's Esteban Gutierrez had a horrific coming together under brakes, sending Alonso airborne before eventually coming to rest upside down against a far barrier in a run-off area.
Both escaped unharmed, but the race was red flagged. All cars returned to the pit lane, with Vettel holding the lead ahead of Nico Rosberg, Kimi Räikkönen, Daniel Ricciardo Max Verstappen, Carlos Sainz and Lewis Hamilton.
Mercedes's drivers opted for medium tyres — the hardest compound tyre available in Melbourne — for the restart, while Vettel and Räikkönen persisted with the supersofts, a decision that would prove critical to the German's race.
Räikkönen retired five laps after the restart with a power unit failure, fire spewing dramatically from his roll hoop air intake, bringing Hamilton up to sixth.
The reigning world champion then closed in on Carlos Sainz and Max Verstappen, themselves warring for fourth, before both returned to the pits to change tyres, handing Hamilton P4 by lap 33.
By lap 35 Ferrari's strategy choice was unravelling. Vettel's pace on his used supersoft tyres was becoming critical, and he returned to the pits for a set of new softs, extinguishing his hopes for a round-one victory — but worse was a slow change of the front-left wheel left even second place tantalisingly out of reach.
Hamilton's Mercedes power unit, meanwhile, was eating up the space between him and Daniel Ricciardo in second, and on lap 42 he reaffirmed Mercedes position at the top of the F1 pecking order with an effortless move on the Australian into turn one.
With the race winding down fans were treated to a classy battle between young drivers Jolyon Palmer, Carlos Sainz, and Max Verstappen for ninth.
Verstappen, however, spent much of the fight radioing his team to let him past his teammate, certain he was quicker than his two rivals. No such assistance was forthcoming, and he eventually followed Sainz past the yellow Renault.
The fight for the podium temporarily came alive again on lap 52, however, when a Hamilton lock-up at turn nine sliced his buffer to Vettel down to half a second, and the German spent the next four laps harassing the Mercedes car for second place.
But Vettel returned Hamilton's favour on the penultimate lap when, pushing too hard, he ran wide at the second-last turn, sealing the result.
"It's been a great weekend," beamed winner Rosberg on the podium. "Thank you to the team for giving us this incredible car.
"To beat the Ferraris was great, so we absolutely loved it. I'm super, super excited."
Hamilton, starting the season with his third championship under his belt, accepted second place with grace.
"I want to say it's been a great race," he said. "I loved the fact we had to come from far behind. It's a great result for the team.
"It was very tricky out there — it was trying to get through the traffic with these tyres on. it's just impossible to follow out there."
Vettel finished a paltry 9.6 seconds behind race leader Rosberg — less than half the time required for his additional pit stop — underscoring how close Ferrari has moved to Mercedes.
The four-time world champion, however, took the loss in his stride.
"Obviously the red flag didn't help us, but nevertheless we had our chance. We probably didn't expect what both of them did going on the medium compound and going to the end. But I'm ultimately very happy with third."
Special mention must also go to Red Bull Racing's Daniel Ricciardo, who sealed fourth place after an unlikely podium appeared briefly on the cards. The result gives hope that Renault's launch spec 2016 power unit may be a bigger step forward than first thought, particularly in the RB12 chassis.
But the biggest off-podium plaudits go to sixth-placed Romain Grosjean, who delivered Haas eight points on debut after starting from nineteenth on the grid.
The Anglo-American team is beginning to weave a narrative just as 2016 is starting to spin its own, and as Formula basked in Australia's warm autumnal sunshine it brushed away the qualifying troubles that plagued it a mere 24 hours earlier to conclusively start the year on the front foot.
Formula One is back, and it's bursting with promise.
The 2016 Bahrain Grand Prix runs 1–3 April.